If we want to discuss the video game phenomena of recent decades without including Roblox, we might as well just stop this ongoing series and put our heads in server cases. However, Roblox is not a video game by itself but a platform ─ a vortex ─ of user generated games that has redefined player engagement and blurred the lines between gaming and game creation. This is a story of innovation, community, and the power of interactive entertainment, that, despite the platform's massive popularity, receives less mainstream recognition.
In 2021, Roblox went public on the stock exchange, with an estimated net worth of 41 Billion US dollars. It is a platform that attracts millions of players every year, day by day, for hours on end, with, as of late, 66 Million daily users. Playing with blocks, right? Not entirely true, but we're getting into that later in our article. One block at a time, which leads us to Roblox's roots. Although the company was founded in 2004 by David Baszucki and Erik Cassel, the beginnings of Roblox's development can be traced back to the late 80s.
David and his brother Greg Baszucki founded Knowledge Revolution. Their key product was Interactive Physics, a 2D physics simulation software that served as an educational tool to simulate physical experiments, as shown in this video. Interactive Physics was followed by the launch of the mechanical design software Working Model in the early 1990s. Both Interactive Physics and Working Model were used extensively in education and industry, providing users with a virtual lab for creating, running and analyzing simulations.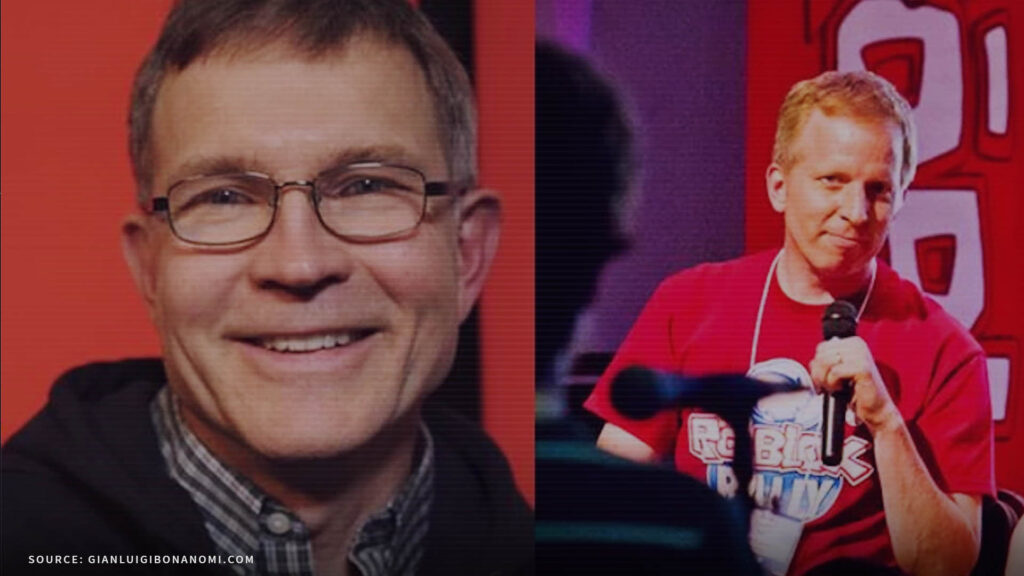 In December 1998, Knowledge Revolution was acquired by MSC Software and David Baszucki served as vice president and general manager. The foundational concepts and innovative ideas that were part of Interactive Physics played a significant role in shaping the development of Roblox. Baszucki has often mentioned in interviews that the popularity and success of Interactive Physics and Working Model, particularly among younger learners, sparked the initial idea for Roblox.
In 2004, David Baszucki and Erik Cassel left MSC to start working on what would become Roblox. Although launched as "DynaBlocks", they would eventually rename the platform to Roblox, unsurprisingly standing for "robots" and "blocks". Soon after, a currency, now called Robux, was introduced, as well as a Premium membership, which was initially called Builders Club. Alongside other goodies, subscribers were allowed to buy and sell limited items or have more active games than free-to-play users.
Roblox offers Roblox Studio, a proprietary engine that uses a derivative of the Lua language named Luau, to create games and purchasable content. The majority of games produced using Roblox Studio are developed by minors, as the target audience is often cited between the ages of 5 and 13, and a total of 40 million games can can be found on the platform in 2023. However, the first attempts to build successful video games were more akin to the physics based simulations of Interactive Physics.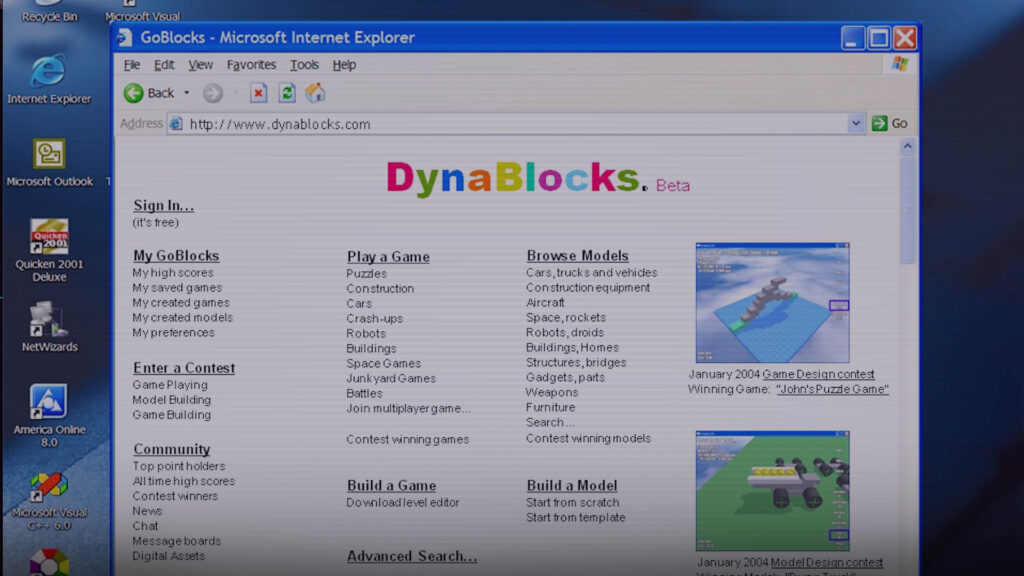 Two very early models, the infamous "Spasmatron 2" and "Wimpatron" were created by David Baszucki himself and looked like militarized fans on wheels. However, the quality of games rose steadily, as more objects, mechanics and features were introduced in Roblox Studio. The combination of more, different blocks made it possible to build structures and game worlds. Games like "Base Wars: The Land" became very popular but it would still take some time until it would be able to reach millions of players.
Throughout much of its early existence, Roblox maintained a rather modest size, both in terms of its platform and its corporate structure. Yet, a period of swift expansion took hold in the latter part of the 2010s, a trend that was significantly amplified by the COVID-19 pandemic. By August 2020, the platform boasted more than 164 million active users each month, a figure that encompassed over half of all children under the age of 16 in the United States. In 2023, these numbers kept rising, with 214 Million active players.
In 2013, the platform introduced the Developer Exchange program. This essentially allowed developers to exchange Robux into real-world currency, which naturally further fostered the rise of even more game creators of all ages. However, competing in an endless sea of games can often turn a hobby into hard work, forcing Roblox to keep the balance between commerce and community. As COVID-19 led to an ongoing spike in active users, it also led to increased developer cash-outs, from 328 Million US Dollars in 2020 to 624 Million Dollars in 2022.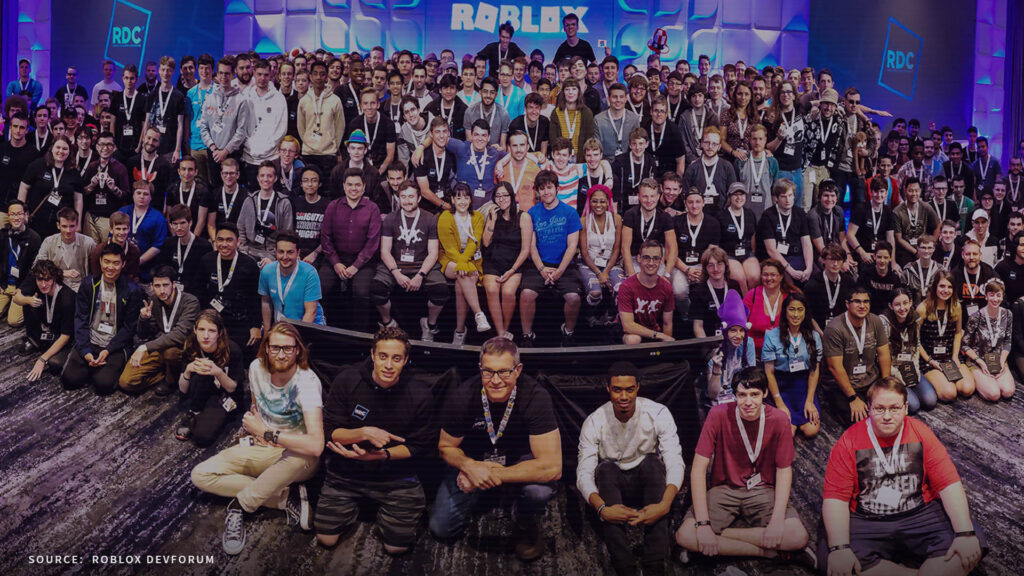 Now, where do these numbers come from? Obviously, developers ─ creators ─ use Roblox Studio to craft and sell virtual items. Players can buy these, using them to decorate their character that serves as their very own avatar on the platform. Looking at the numbers of the most-played Roblox games worldwide, it's clear how this revenue is created. Popular titles like Adopt Me! or Brookhaven have already been played over 30 billion times, with millions of different players.
Adopt Me! revolves around creating a personalized living space where players can nurture pets and establish friendships with other users. Brookhaven, also a role-playing game, allows players to simulate life in a virtual town, complete with homes, vehicles and various community locations. Like many other popular Roblox games, it promotes social interaction and creativity. Blox Fruits, on the other hand, is an adventure game where players explore a vast world, fight enemies and collect powerful fruits that grant unique abilities. The similarities to One Piece are not by accident, but intended.
Other games, like Piggy and Murder Mystery 2, reflect popular asymmetric gaming experiences, whereas a group is hunted by a pig or takes up the roles of innocents, sheriffs and murderers. These are only some of the top games and not even a drop in the ocean of 40 million titles on the platform. Alongside the massive amount of games, Roblox has focused on expanding its platform to an even wider audience. In 2015, it launched on the Xbox One, and in 2016, it introduced a virtual reality version for the Oculus Rift.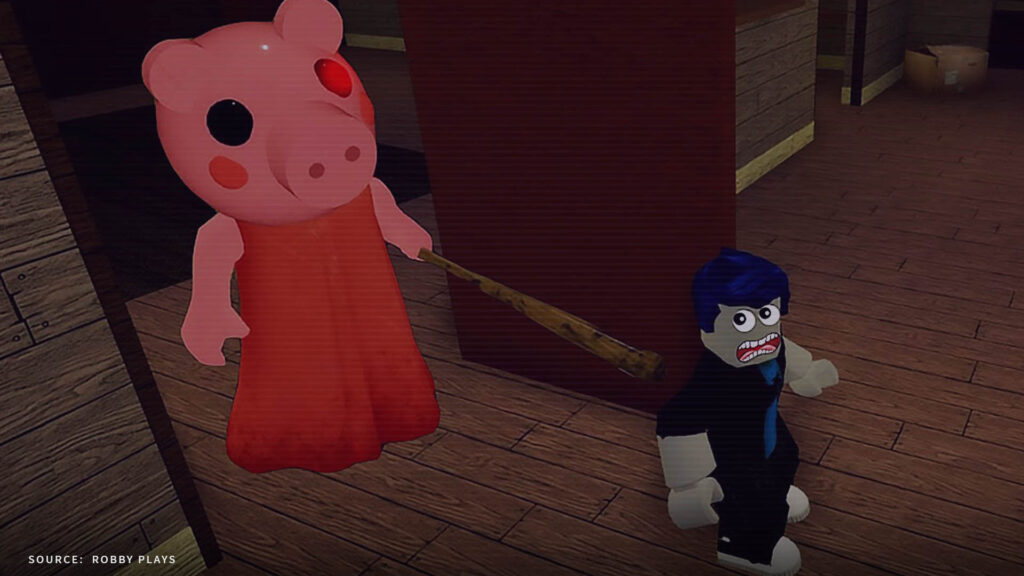 As stated in the first paragraph, despite its massive user base and significant impact on the gaming industry, Roblox often doesn't receive the same level of mainstream recognition as some other popular gaming platforms or titles. This might be easier to understand if you consider key aspects like its demographics, the amount of user-generated content, and its hybrid status as a gaming creation and gaming platform.
Roblox's primary audience is children and young teens, a demographic that is not as visible or vocal in mainstream gaming discussions. Many popular titles forgo a traditional structure of storyline and gameplay and the experience can vary greatly, depending on which games you interact with. And, as a platform, Roblox is often cited as a whole, not broken down into its elements. So, even if games like Brookhaven have millions of daily users, they are not as visible as record sales from blockbusters like Elden Ring or multiplayer hit Sons of the Forest.
The platform is also often seen more as a learning tool than a real "competition", despite being valued seven times the net worth of industry giant Ubisoft. Personally, I think the most undervalued fact is that a whole generation of upcoming adults has learned and experienced game development in a way that is way more engaging, often showing results in an instant without ever leaving the platform. By doing so, Roblox has coined the term "Metaverse" before it even was a buzzword to attract an audience.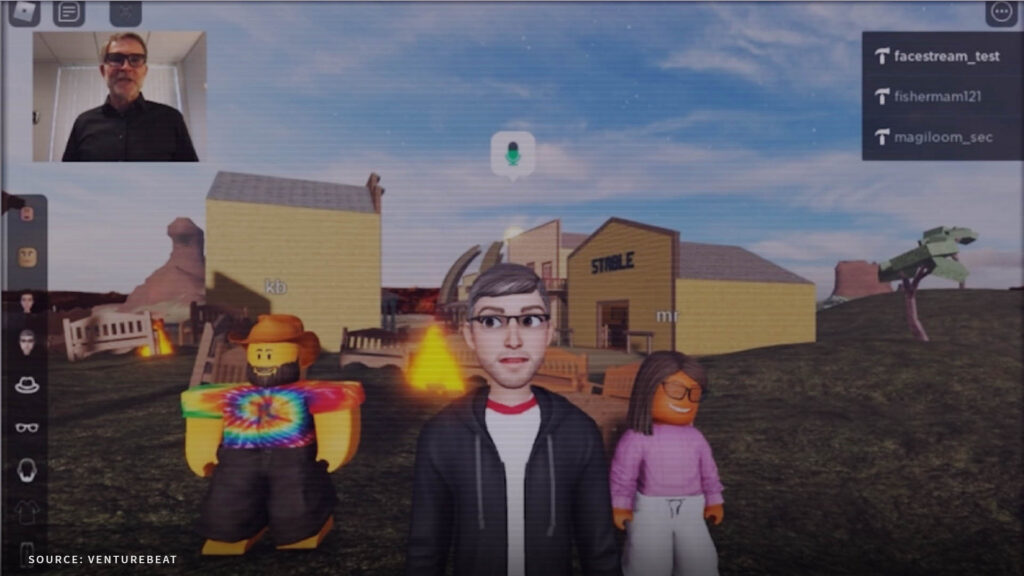 The metaverse, as a concept, is a collective online realm created by merging physical and virtual reality. This space is typically imagined to be accessed by users with avatars and is supposed to span across multiple digital platforms, including games, social media and virtual reality. Roblox's model of a shared, user generated universe, where players can move seamlessly between different games and experiences with a persistent identity, fits this idea just perfect.
As for the future influence of Roblox, it is not a question of if ─ but how ─ it changes aspects of the video game industry. The success that came through user generated content paired with social interaction is certainly going to drive more monetisation models into video games, for the better or worse. Also, despite its own success, Roblox fights its own challenges with a user base that is, in many parts, not even old enough to give their consent for the laser show of visual stimuli they're facing in-game everyday.
However, Roblox has enabled millions of gamers to let their dreams become reality, making Roblox studio part of their children's rooms and, even more significantly, part of a new generation of media consumers and creators. The Roblox phenomenon goes beyond video game creation as it enables multitudes of content channels. These blocks and bricks can still serve as a tool for learning and education, but, looking at the journey from a physics based simulation to a billion dollar platform worth of games and creators, it's impossible to predict what height this tower of blocks can achieve.