The Coriolis storm has been raging on for two years, with the Arrakis force that was Dune 2 sweeping over the video game landscape since 1992. Witnessing massive changes in the conception of strategy games during the 1980s, Westwood Studios took the ingredients provided by earlier attempts at the real-time strategy genre, added unique gameplay elements, and "spiced up" the mix with a loose interpretation of Frank Herbert's Dune. By doing so, Westwood created one of the most influential video games of the 90s, which we discussed in detail in our latest article Been there, Dune that.
However, these two years haven't really seen many projects that were directly inspired by Dune 2. There have been notable real time games like The Settlers (1993), the beginning of the famous Settler-series, or Syndicate (1993), a well received real-time tactics title that is considered a classic today. 1993 also saw the release of the famous Master of Orion, a title that significantly shaped and pioneered the 4X-genre together with Civilization, which was already released in 1991 to great public success. Still, none of these games were RTS-games in the style of Dune 2.
Then came 1994 and with it a new kind of storm approached. A chilling gust of wind blew players from the unforgiving heat of Arrakis and the battle of control over the spice melange into the dark fantasy world of Azeroth, amidst a war between humans and orcs. Warcraft: Orcs and Humans, made by not-yet famous Blizzard, took over many of Dunes' strengths and applied a couple of new ideas as well as multiple improvements to the gameplay. It might be debatable if the origin story, as it was told in the first game, could be compared to the rich lore behind Westwoods RTS-template by todays standards, but Azeroth and its many protagonists have come a long way since the early 90s.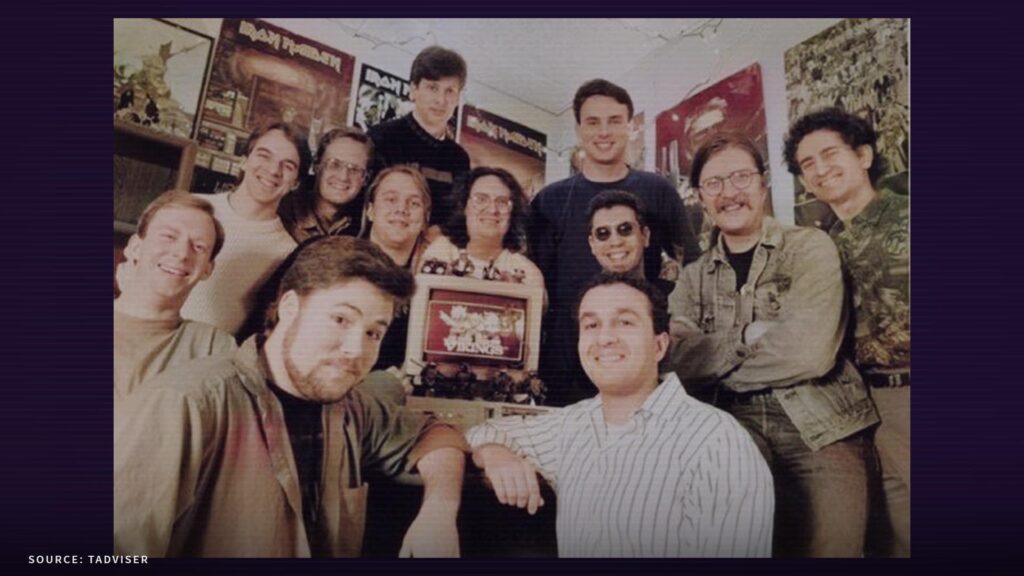 Nonetheless, the story of the conflict between orcs and humans was presented with in-game cutscenes and mission briefings, making players feel more invested in the outcome. The game was conceived after Blizzard co-founders Allen Adham, Michael Morhaime and Frank Pearce played Dune 2 in 1993 and were impressed to the point that creating their own RTS became imperative. Originally, Blizzard intended to create Warcraft as a licensed game based on the famous Warhammer fantasy universe but were unable to secure the rights and opted to create their own world.
Blizzard, formerly known as Silicon & Synapse, was founded in 1991 and underwent a couple of name changes, first to Chaos Studios and then finally to Blizzard Entertainment. Initially, Silicon & Synapse focused on creating game ports for other studios, which gave them valuable experience in the gaming industry. Before diving into the RTS genre, Blizzard developed several original games, the first being The Lost Vikings (1992), a well received puzzle-platformer where players controlled three Vikings, each with unique abilities, to solve levels.
Rock n' Roll Racing (1993), an arcade-style combat racing game known for its rock and metal soundtrack, and Blackthorne (1994), a cinematic platformer with a dark fantasy, followed afterwards. They already had the distinct Blizzard look and even showed orcs and other elements players would find in later games. However, Warcraft: Orcs and Humans, proved to be a different kind of beast and had nearly been cancelled multiple times before being released to widespread acclaim.
The core real-time strategy gameplay was modeled after Dune 2 – gathering resources, base-building, training units and real-time combat, but Warcraft refined and expanded upon those ideas, like grouping together four units. This seems laughable by todays standards but in Dune 2, players had to click every single unit. The game introduced a more intuitive interface, diverse units with unique abilities, and a balanced resource management system, all of which was combined with Blizzard's fantasy setting and lore.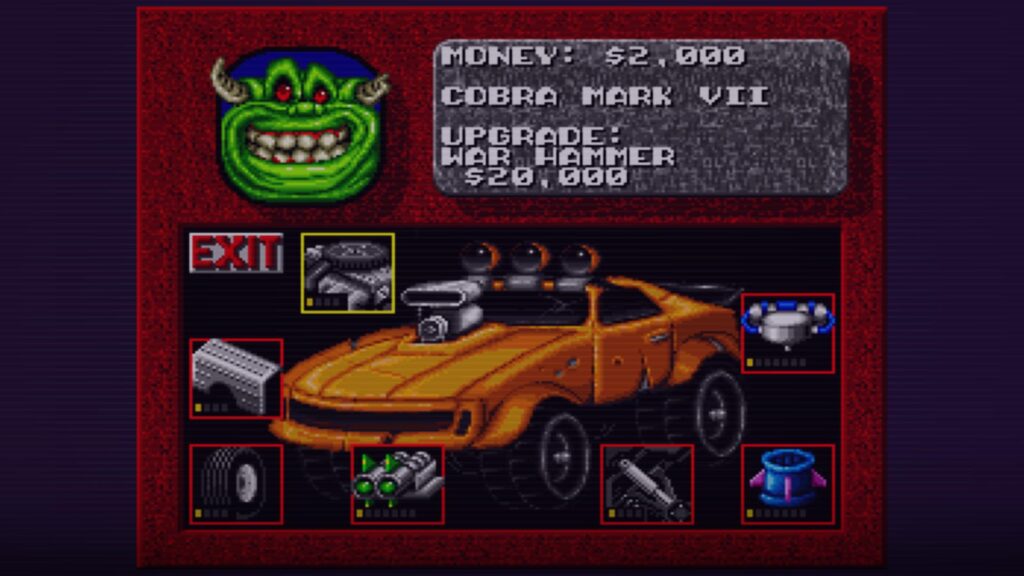 Warcraft didn't just offer skirmishes; it provided a rich narrative that drew players into the world of Azeroth though what made Warcraft really stand out, was the added multiplayer mode: Players could battle against each other, which was a relatively new concept for RTS games at the time and it greatly increased the replay value. This was a significant step forward for the genre and laid the groundwork for future RTS-titles, including Blizzard's upcoming game Warcraft 2: Tides of Darkness.
1995 was an important year for the RTS-genre. Not only did Blizzard release a successor to their surprise hit Warcraft, but Westwood, the creators of Dune 2, came up with a new ip called Command & Conquer. Set in an alternate version of the 1990s and drawing heavy influence from cold war bloc formation, the battle for Tiberium, was a major success, surpassing what Dune 2 had achieved before. The golden era of the RTS-genre was in full acceleration mode with Westwood and Blizzard pushing the limits.
The success of Warcraft: Orcs & Humans marked a turning point for Blizzard. It not only established the Warcraft franchise but also positioned Blizzard as a major player in the gaming industry. Following the success of Warcraft: Orcs & Humans, they sought to expand and improve upon their take on the RTS-formula. Feedback taken from the first game was baked into the new release, while Warcraft 2: The Dark Tides continues the story of the conflict between the human-led Alliance and the orcish Horde fighting for Azeroth. Additionally, new races were introduced, including high elves, trolls, ogres, and goblins to expand the universe.
Choosing one side, players would fight in separate campaigns, but a series of missions offered interludes between the warring factions. Major graphical improvements over Warcraft 1, with SVGA graphics, higher color depth, and animations, allowed for more detailed and colorful visuals compared to its predecessor. The core RTS gameplay of gathering resources, building bases, and training units to battle enemies remained largely the same but new additions included naval combat, aerial units, oil harvesting, and multiplayer via LAN and modem. The latter is particularly important, since the team at Blizzard realised how important a polished multiplayer functionality was for replayability and competitive RTS-gameplay.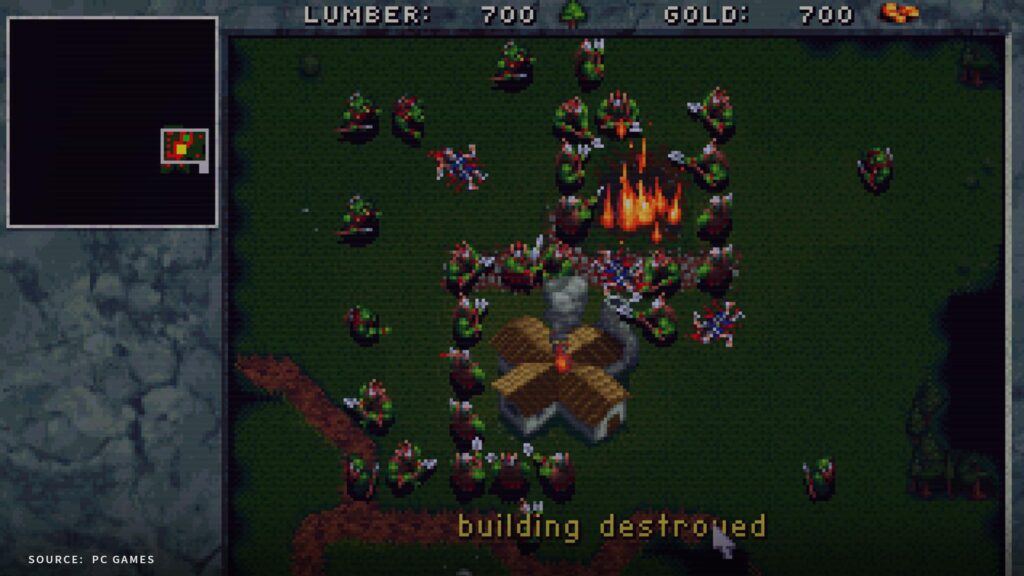 LAN play allowed up to eight players to compete on the same local network by connecting multiple PCs with Ethernet cables, modem connections used telephone lines to connect two PCs remotely; this enabled friends to play together across long distances. Centralized servers did not exist, so the game essentially relied on a peer-to-peer structure, with one player acting as host while others connected to him as guests. Thanks to competitive RTS gameplay and the included map editors for creating custom maps, Warcraft 2 multiplayer gained immense popularity and was one of its most celebrated features. The ability to compete against or cooperate with other human players added a layer of unpredictability and strategy that AI opponents couldn't replicate.
In 1996, Blizzard Entertainment launched their free online gaming service battle.net, alongside their new game Diablo. Battle.net enabled players to easily find opponents online and play together through a common service, introduced skill-based matchmaking and competitive ladders and offered measures against cheating. It would be the essential tool for Blizzard to double-down on competitive multiplayer gaming. This also included a special battle.net version of Warcraft 2 in 1999, which further boosted the game's multiplayer popularity. Blizzard had released StarCraft and the expansion Brood War in 1998 and while it is often considered to be the ignition spark of esports as we know it today, it did so gradually, eventually exploding in 2001 and beyond. StarCraft, its development and major impact on the online gaming scene will be the main topic of our next article.
The release of StarCraft did not cause Warcraft 2 to vanish in popularity. Both games coexisted, catering to slightly different audiences within the RTS community. StarCraft eventually overshadowed Warcraft 2 in terms of competitive play, especially in countries like South Korea, where StarCraft became a national phenomenon and laid the foundation for modern esports. Meanwhile, multiple other titles hit the RTS-market, making big, influential waves on their own. Westwood released part 2 of their Command & Conquer series, called Red Alert, in 1996. Storywise, it played before the events of Command & Conquer, explaining how the blocs of part one fell into place. The game was a major success and is, to this day, lauded as an RTS-milestone. Once again, Westwood used real actors in their fmv cutscenes which quickly gained cult status.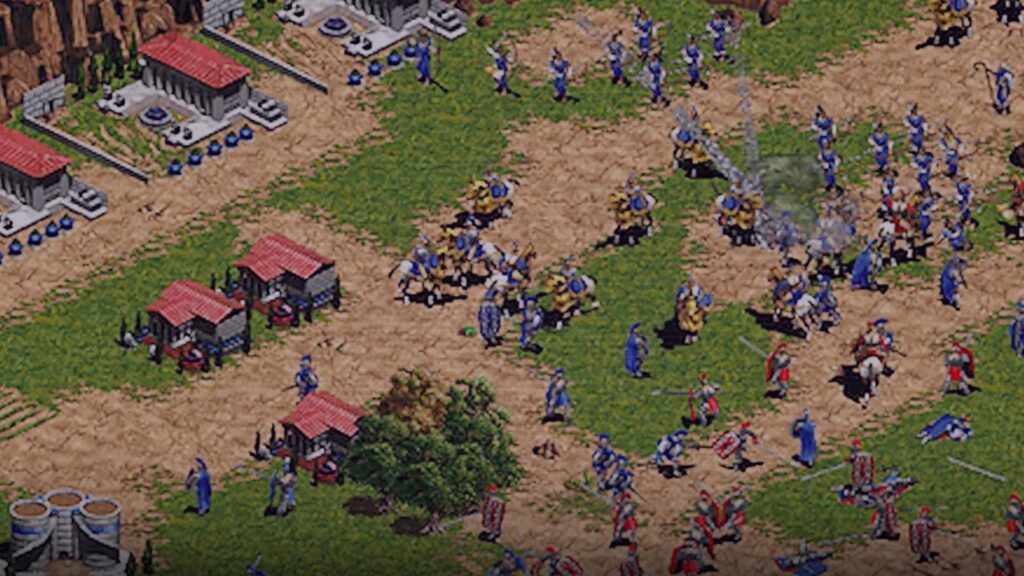 The most important releases of 1997 were Total Annihilation and Age of Empires. Developed by Cavedog Entertainment, Total Annihilation was known for its large-scale sci-fi battles between immense robotic armies and intricate bases across expansive 3D landscapes, marking a major step forward in 3D RTS visuals and scale. In contrast, Age of Empires, developed by Ensemble Studios and published by Microsoft, enabled more intimate gameplay. It focused on building and guiding historically inspired human civilizations from the Stone Age to the Iron Age, garnering praise for its depth, strategic complexity, and integration of historical elements into empires spanning ancient eras. From a historical standpoint, the Age of Empires series was likely more influential, especially after the release of Age of Empires 2: The Age of Kings in 1999.
Homeworld (1999) pioneered full 3D movement in space for real-time strategy games, with ships able to maneuver and battle freely across all three axes and massive fleets engaging in epic conflicts across beautiful nebula backdrops, adding strategic depth and cinematic atmosphere rarely seen in RTS titles before. Though its innovations like spherical level design, asymmetric sci-fi factions, and salvaging mechanics built on classic RTS fundamentals, it provided a compelling space-opera narrative that immersed players, which couldn't be said about many other contemporary strategy titles. Homeworld won numerous awards such as Game of the Year from multiple publications, cementing its status as a landmark RTS that brought the genre into a new era of visual fidelity and narrative possibility while inspiring 3D gameplay concepts that persisted long after its release.
Other notable titles marked the beginning of a new, management focused era of real time strategy. Anno 1602 (1998) or Cultures (2000) either kept combat as a rather uninspired afterthought or ditched it altogether in favor of elaborated systems for building, economy and satisfaction of the evergrowning, never sated population. Shogun: Total War (2002) and Medieval: Total War (2002) separated real-time decision-making for both strategy and tactics into distinct modes, with the strategic layer being a turn-based campaign and the tactical battles being real-time. Unlike many RTS games of its time, Total War emphasized the broader scope of empire management, from diplomacy and espionage to economic development and religious influence. Its real-time battles were vast in scale, allowing players to command thousands of troops on a single battlefield, with factors like terrain, weather, and morale playing crucial roles.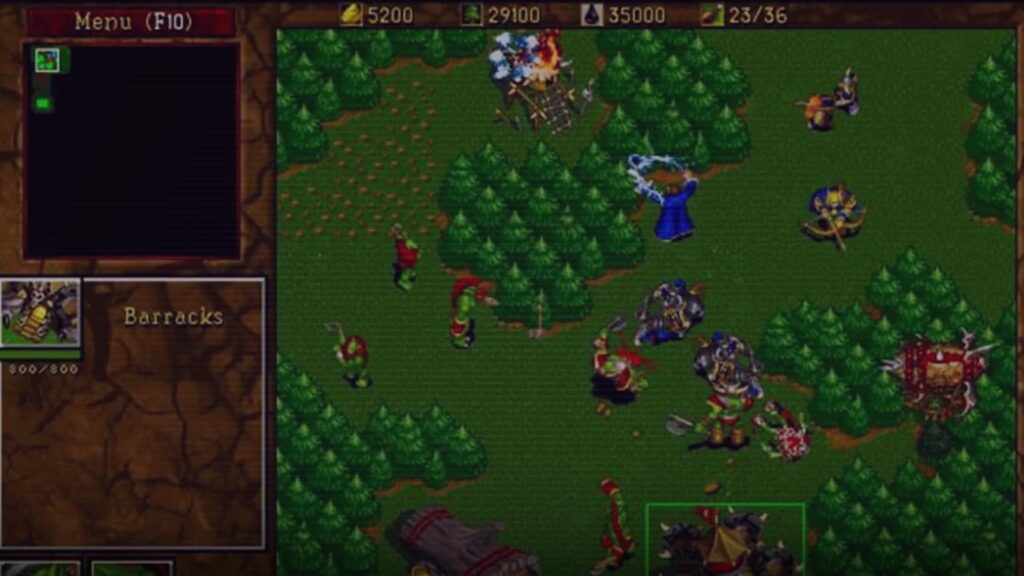 The rise of popular games brought a flood of mediocre or less popular titles onto the RTS market, as fewer major innovations occurred and new IPs struggled to stand out. It's only natural that video games, just like any other product, follow a certain trend, as long as the demand calls for it. After peaking in 2002, RTS sales declined year-over-year from 2003-2006 suggesting shrinking mainstream interest. Of course, games like StarCraft were not affected. Quite the opposite, as Blizzard's science fiction take on the asymetric RTS formula commonly had over 100,000 tournament spectators and had sold 10 million copies by 2007. Yet, this success was also part of the underlying problem that initiated the death blow for many other games.
Esports came and with it the assumption that multiplayer is the only thing that matters in strategy games. Of course, there are notable exceptions to the rule but in essence, many developers and publishers tried to compete with StarCraft, creating their own secret sauce for success and rise to equal heights. Appeals to casual players waned as games increased complexity and multiplayer focus intensified, leaving single player campaigns neglected. Into this trend came the release of Blizzard's third chapter of the Warcraft franchise, Warcraft 3: Reigns of Chaos.

Warcraft 3 represented a major evolutionary leap for Blizzard's hit RTS franchise. While retaining the core real-time strategy gameplay, Warcraft 3's development from 1998-2002 focused on incorporating role-playing elements and hero units, to bring more personalization, customization, and narrative depth lacking in predecessors like StarCraft. This was made clear when Blizzard announced the new Warcraft as role-playing strategy game. Upon release in 2002, Warcraft 3 received universal acclaim for its fusion of RTS and RPG habits alongside major graphical upgrades. The new hero system, item inventory, and neutral creep units provided hero development akin to an RPG within the strategy framework. For many, the biggest selling point was the story.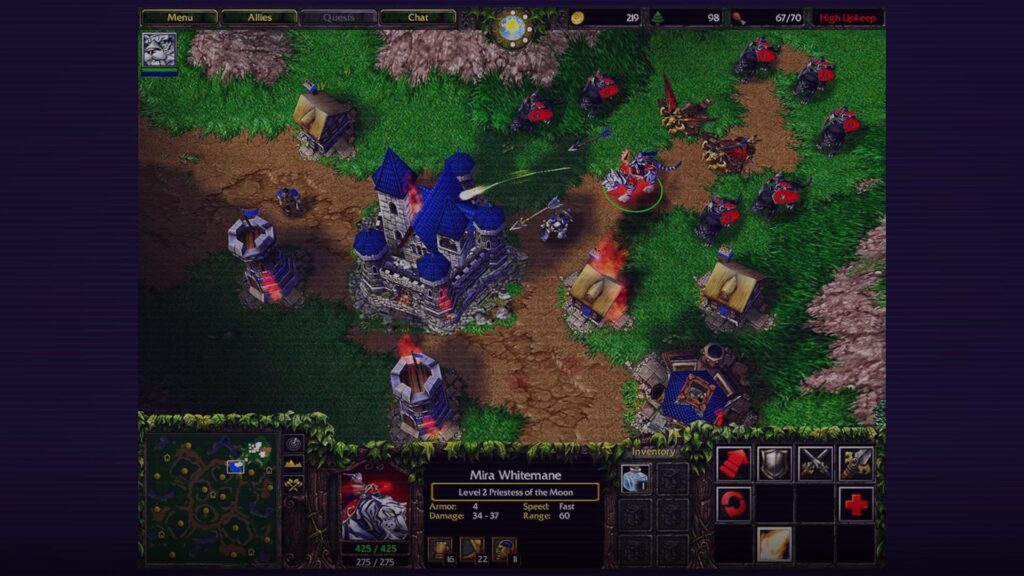 Though multiplayer was still a priority, Blizzard dedicated substantial resources towards crafting a fully-fleshed single player campaign, weaving an epic tale across multiple character perspectives to immerse players in the lore of Azeroth and beyond. Through a series of interconnected missions across the four races, players were treated to a rich story of betrayal, redemption, and war, with cinematic cutscenes that set a new standard for storytelling in strategy games.
Battle.net, Blizzard's online gaming service, was integrated, providing a platform for players worldwide to compete, chat, and organize tournaments. The game's four distinct races—Humans, Orcs, Night Elves, and Undead—each with their unique strategies and playstyles, made multiplayer battles diverse and engaging, but Warcraft 3's core multiplayer base could not unseat StarCraft's dominance. One of the game's most significant contributions was its World Editor, a tool that allowed players to create custom maps and game modes which led to a vibrant modding community.
Following the groundbreaking success of Warcraft 3: Reign of Chaos, Blizzard Entertainment released its expansion, Warcraft 3: The Frozen Throne, in 2003. This expansion not only continued the epic saga of Azeroth but also introduced a plethora of gameplay enhancements and features that further solidified its legacy in the RTS genre. The narrative is darker, exploring themes of power, corruption, and redemption. Through its campaigns, players witness Arthas' transformation into the Lich King, one of the most iconic characters in Warcraft lore.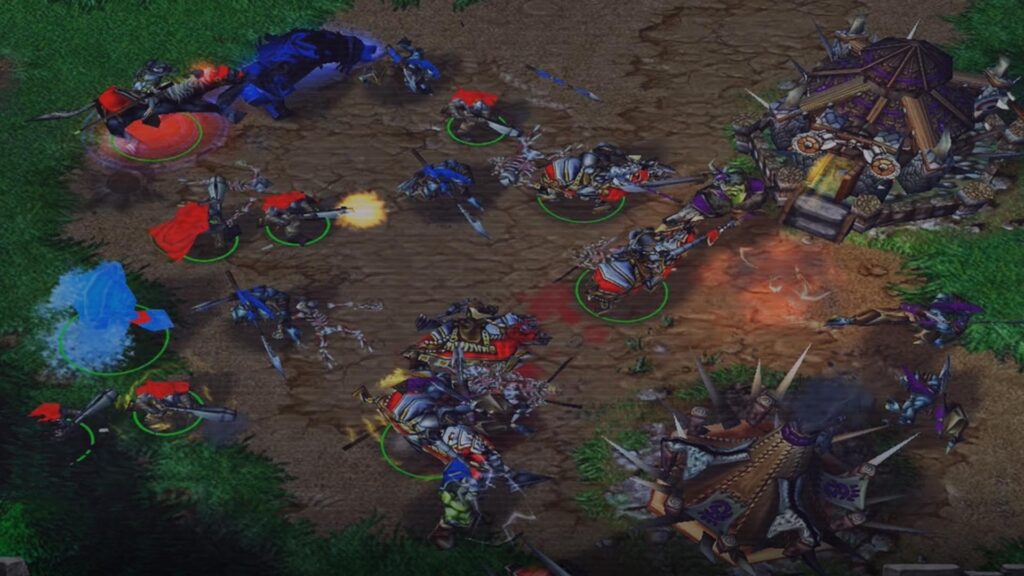 This expansion introduced new hero units for every race, adding a layer of strategic depth. Apart from heroes, each race also got new standard units and structures, offering fresh strategies and tactics. Taking feedback from Reign of Chaos into account, the game saw several balance adjustments, aiming for a fairer gameplay for both casual and competitive players, which also included an update to the AI. The Frozen Throne managed to revitalize the Warcraft multiplayer scene, because the new units and heroes added layers of strategy, and the balance changes meant that competitive play was more dynamic. Tournaments began to feature The Frozen Throne more prominently, and it became the standard for competitive Warcraft 3 play.
The World Editor received significant upgrades, allowing for even more complex custom games and scenarios. One mod that already stood out in Reign of Chaos was Dota, short for Defence of the Ancients. The core gameplay revolves around two opposing teams, each aiming to destroy the other's primary structure: the Ancient. Each team consists of five players, with everyone of them controlling a unique hero. Throughout the game, players earn experience and gold by defeating enemy units, heroes, and structures. This gold is used to purchase items that enhance a hero's capabilities. Strategy, teamwork, and player skill were crucial for success, as teams must coordinate their efforts to achieve objectives, secure resources, and engage in combat to tip the scales in their favor.
Today, it is common knowledge that, born from the immense popularity and community-driven success of the original Defense of the Ancients, Dota 2 came into existence. Recognizing the potential and appeal of the mod, Valve Corporation, the developer behind titles like Half-Life and Portal, took interest in evolving Dota into a standalone game. Valve hired IceFrog, one of the primary developers behind the original Dota mod, to lead the development of Dota 2. His deep understanding of the game mechanics and the community's desires was instrumental in ensuring the sequel's authenticity. Valve aimed to retain the core gameplay mechanics of the original Dota while enhancing the game's graphics, user interface, and overall experience using their Source engine. Today, Dota 2 is one the most played games globally, easily averaging around 450.000 players at the same time.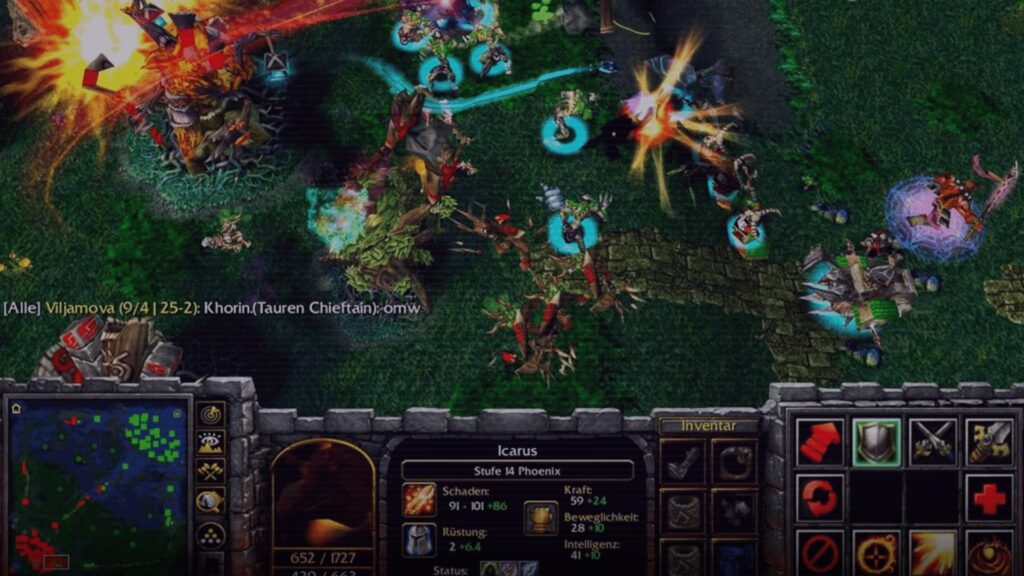 The immense popularity, in a way, also meant the downfall of many traditional RTS-games. Warcraft 3 enjoyed massive popularity due to the sheer number of custom games. Besides Dota, there were other popular games like Wintermaul Wars and Green TD—both Tower Defense games where players would build towers to fend off waves of enemies—Footman Frenzy, Hero Line Wars and many more. This solidified Warcraft 3 and its longevity, despite the reigning competitive dominance of StarCraft. In summary, Warcraft 3 and its expansion The Frozen Throne not only pushed the boundaries of what was expected from an RTS game but also inadvertently birthed an entirely new genre in MOBAs. Its legacy is twofold: it refined and advanced the RTS genre, and it sowed the seeds for the MOBA explosion that would dominate the gaming landscape in the years to come.
Through its high fantasy setting, approachable gameplay, and multiplayer focus, the Warcraft series helped popularize real-time strategy games and lay the foundations for competitive esports gaming. Shortly after Warcraft 3: The Frozen Throne, Blizzard released World of Warcraft, a mmorpg that gave even more life to the detailed lore of Azeroth, but it also meant the end for the Warcraft strategy games era. True to their company's name, World of Warcraft took the world by storm and eventually became to most successful online roleplaying game ever created. However, Blizzard would move on and release a second game in their StarCraft universe, creating a sudden shift in the StarCraft esports scene. However, this and many other information will be part of our next article.