More people are playing Battlefield 4 now, than they have for an exceptionally long time.
Last week EA announced their trailer for Battlefield 2042. Since then, the number of players has skyrocketed on Battlefield 4 servers – only a few months ago the peak number of players was 2717 and over the weekend the number jumped to 11,714. Take note though, that it is highly likely the actual figures are a lot higher as these stats are from Steam and don't take into account EA's origin service or those who are playing on console.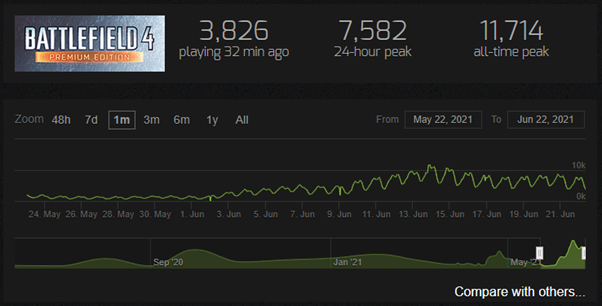 At GPORTAL, we are seeing this increase too, with most of our Battlefield servers full – to the extent that we are doing what we can to accommodate the influx of players.
For years we have been providing Battlefield 4 servers, where we provide over 60% of the worldwide Battlefield servers. During this time, we have worked closely with communities, offering support when needed – even providing high performance systems with Battlefield EPS Product Line, allowing servers to run at 144Hz even when full.
Battlefield 4 – for those of you who know about the Battlefield franchise, the launch and first year did not go well. There were concerns at the beginning from gamers who saw initial trailers and gameplay, thinking that it did not look different enough from its predecessor's launch just two years earlier. However, the problems stemmed from exactly the opposite, Battlefield was too big an idea to be developed fully within the two-year time frame.
64 players, giant maps, and 1080p – these were big plans and DICE did not quite pull it off at launch. At launch there were game crashes, bugs, sporadic frames per second – issues that crippled gameplay. Many of these issues continued throughout the first year, but DICE worked hard, eventually fixing all the issues; and the result is one of the best Battlefield games to date.
DICE introduced levelution, where huge constructions would be destroyed during a gameplay session – changing the way a map could be played.
As well as the bug and performance fixes, a DLC support, Battlefield 4 is an incredibly fun, competent, and content-stuffed game.
This is great for Battlefield 2042!
The hype for Battlefield 2042 is real, and in a newfound way EA are benefiting from Battlefield 4 servers – this is essentially the equivalent to dusting off an old game in preparation for the much-anticipated new version. These Battlefield 4 servers are satisfying the Battlefield itch that many players need to scratch.
To find more about GPORTAL and how we provide Battlefield servers, read this article https://www.g-portal.com/business/battlefield-3-and-battlefield-4-are-still-being-played-with-gportal/
To rent a Battlefield 4 server, click here
To read more about the benefits of private servers, read this article https://www.g-portal.com/business/21-reasons-private-game-servers-should-be-part-of-your-game-in-2021/
If you are a game developer and would like to enquire about private game servers, email business@g-portal.com